At the Air Force Association's fall conference over the weekend, senior leaders answered questions about military policy. Air Force Chief of Staff Norton Schwartz was asked about "Don't Ask, Don't Tell" repeal'.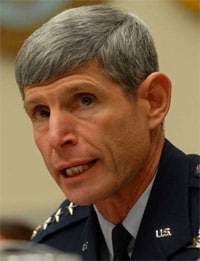 Said Schwartz:
"If the law changes, there is no doubt in my mind that all airmen in the U.S. Air Force will implement the change professionally, thoroughly and effectively."
Schwartz also praised Defense Sec'y Robert Gates' working group survey:
"The working groups have looked at the various issues that might entail should the law change — everything from billeting to entitlements to personal displays of affection to you name it. That effort … will allow us … to take a much more thoughtful, targeted and effective approach to implementation…But there is one bottom line on all of this. … The standards of conduct do not change, period."
Shouldn't that be when the law changes, and not if?