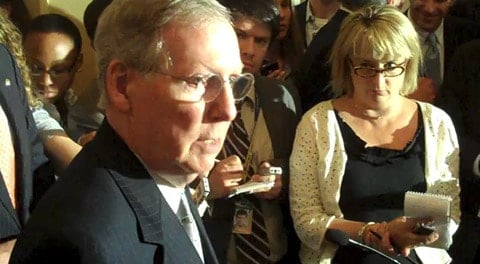 Politico's Josh Gerstein and Meredith Shiner discuss the hurdles "Don't Ask, Don't Tell" faces in the Senate: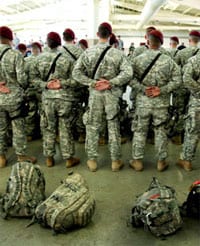 "Republicans are threatening to filibuster the defense authorization bill that contains the "don't ask, don't tell" repeal. The bill could be waylaid by amendments, a conference committee, the congressional calendar or the midterm elections. Then there's the veto threat from President Barack Obama, who supports repealing the ban on gays in the military but opposes weapons programs in some versions of the defense bill. 'People can definitely not bank on it yet. There really are significant risks that it might not pass,' said Jon Davidson of Lambda Legal, a gay legal advocacy group. Arizona Sen. John McCain, the ranking member of the Armed Services Committee, said Republicans will 'fight every way we can' to keep the 'don't ask, don't tell' provisions out of the authorization bill. And Reid didn't exude confidence that he has the 60 votes needed to overcome a Republican filibuster. 'We'll sure find out. I don't know,' Reid said."
However, Politico's Morning Defense thinks the votes are there:
"DADT PREDICTION – The bill may come up on the Senate floor Monday, and there are 60 votes to break any filibuster on defense authorization, advocates of repeal tell Morning Defense."
Kerry Eleveld on Harry Reid and a possibly filibuster:
"Senate majority leader Harry Reid announced Tuesday that if Republicans filibuster the National Defense Authorization Act — which houses "don't ask, don't tell" repeal — he would file for a cloture motion that requires 60 votes in order to move to a debate on the legislation. Although the bill primarily funds the Department of Defense, Reid said the bill was 'especially important' this year because it would address two issues that were 'long overdue' — repeal of 'don't ask, don't tell' and the DREAM Act, a bipartisan measure that would create a way for undocumented students who came to America as children to gain permanent residency through higher education or military service."
Americablog reports that Minority Leader Mitch McConnell called the DADT and DREAM measures "needlessly controversial" in a press conference yesterday.
Watch McConnell speak, AFTER THE JUMP…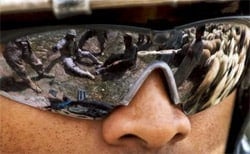 In related news, the Palm Center today released a "scorecard and briefing paper highlighting the key standards it will use to measure whether the repeal of the "don't ask, don't tell" policy results in genuinely equal and open service for gay and lesbian troops."
"The Palm Center paper states that 'based on the evidence and data provided by service members, veterans, experts and foreign militaries, the standard of equal and open service in any implementation plan must include three factors: a.) an affirmative non-discrimination policy; b.) one standard of conduct and facilities; and c.) leadership at all levels.'"
The document can be downloaded HERE.