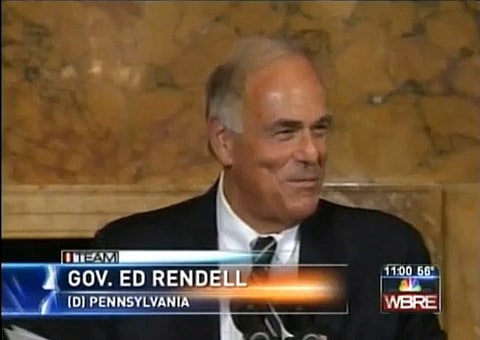 Pennsylvania Governor Ed Rendell apologized yesterday over revelations that the state's Department of Homeland Security distributed a list of peaceful activist groups and citizens to monitor under a $125,000 contract. The list included citizens demonstrating in support of the governor's own education bill, animal rights demonstrators, and activists involved in Philadelphia's annual LGBT PrideFest.
The Philadelphia Inquirer reports:
"Rendell said he did not know that the state Office of Homeland Security had been paying an outside company to track a long list of activists, including groups that oppose drilling in the Marcellus Shale, animal-rights advocates, and peace activists. The office then passed that information on to large groups of people, including law enforcement and members of the private sector…The bulletin included information about a PrideFest by gays and lesbians; a rally that supported his administration's education policy; and an anti-BP candlelight vigil. 'Tell me, what critical infrastructure does the gay and lesbian PrideFest threaten?' Rendell asked. 'How in the Lord's name can we consider them to be terrorists?'"
Watch WBRE's news report, AFTER THE JUMP…