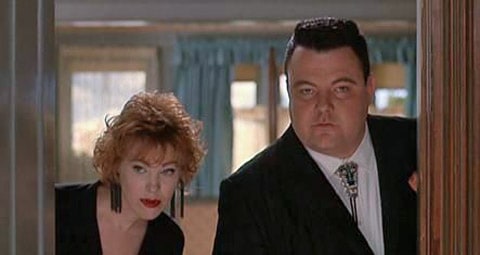 Actor Glenn Shadix, best known for his role as Otho in Beetlejuice, died after a fall on Tuesday at his Birmingham, Alabama condo:
"'He was having mobility problems, and he was in a wheelchair,' Susan Gagne, Shadix's sister, said Tuesday. 'It looks like he fell and hit his head in the kitchen, and that's the cause of death.'…

Besides "Beetle Juice," Mr. Shadix's other films roles included supporting parts in "Heathers," "Demolition Man," "Meet the Applegates" and "Dunston Checks In," as well as a small role in the steamy Jack Nicholson-Jessica Lange mystery "The Postman Always Rings Twice," his first film. On TV, Mr. Shadix appeared in guest roles on "Cheers," "The Golden Girls," "Roseanne," "The Fresh Prince of Bel-Air" and "Seinfeld," in which he played Jerry Seinfeld's landlord.

After nearly 30 years in Hollywood, Mr. Shadix moved back to Alabama about three years ago to be close to his family and to write, his sister said. In his old hometown of Bessemer, Mr. Shadix bought and was restoring a century-old Queen Anne Victorian house that was later destroyed by a fire in December 2008. Earlier that same year, Mr. Shadix participated in his first Gay Pride Parade in Birmingham. "I had never been to any gay gathering in the South," he told The News at the time. "I have been blessed as a gay man because I never had to deal with any situations of real prejudice or intimidation in my field."
Shadix appeared in more than 70 films and TV shows. He was 58.