Seymour Pine, the NYPD officer who led the raid on the Stonewall Inn, has died at 91 at an assisted living center in New Jersey, the NYT reports: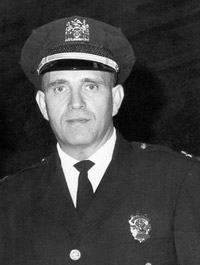 "Inspector Pine, who later apologized for his role in the raid, was commander of the New York Police Department's vice squad for Lower Manhattan when he led eight officers into the Stonewall Inn, an illegal club frequented by cross-dressers, just after midnight on June 28, 1969….In 2004, Inspector Pine spoke during a discussion of the Stonewall uprising at the New-York Historical Society. At the time of the raid, he said, the police 'certainly were prejudiced' against gays, 'but had no idea about what gay people were about.' The department regularly raided gay clubs for two reasons, he said. First, he insisted, many clubs were controlled by organized crime; second, arresting gay people was a way for officers to improve their arrest numbers. 'They were easy arrests,' he said. 'They never gave you any trouble' — at least until that night. When someone in the audience said Inspector Pine should apologize for the raid, he did."
Said David Carter, author of Stonewall: The Riots That Sparked the Gay Revolution: "There's been a stereotype that Seymour Pine was a homophobe. He had some of the typical hang-ups and preconceived ideas of the time, but I think he was strictly following orders, not personal prejudice against gay people."
Pine was interviewed for this year's film Stonewall Uprising. Watch the trailer (I believe that's Pine in the NYPD cap), AFTER THE JUMP…
After screening the excellent film earlier this year, I'd have to agree with Carter's quote above.