Florida Governor Charlie Crist says he has undergone an "appropriate evolution" on gay adoption and would consider dropping the state lawsuit opposing adoption of two foster children by Frank 'Martin' Gill, he told reporters today.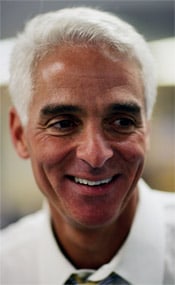 You remember this lawsuit – the one in which discredited hypocrite George "rentboy" Rekers testified as an "expert" witness and was paid more than $120,000 to testify?
"I think we need to review that. My comments really reflect that it's better to have more of the judicial branch involved in this process. I think that most who follow the judiciary recognize that what's in the 'best interest of the child' is what should be paramount in these kinds of decisions. That's what I believe and I think that's what will be the best for them."
Asked why he doesn't just drop the case, Crist responded:
"I'm going to review it before I would make that call.
Adding, "Not a whole lot has changed [in my position] to be candid. I also said (back in 2006) that I'm a live-and-let-live kind of guy. And I am. As I said this morning, I think that the older you get, the less judgmental you become. Maybe I was more rigid earlier. But I don't feel that way. And I know who's supposed to be judging people and it's not me."
Over the weekend, Raw Story posted a new Crist document citing support of various issues important to the LGBT community.
Crist's Tea Party opponent Marco Rubio immediately attacked Crist, now running for Senate as an Independent, over his gay adoption statements through Rubio's spokesperson Alex Burgos: "For say and do anything political opportunist Charlie Crist, an appropriate evolution is dependent upon whichever way the wind blows and whose votes he desperately needs today. Just as he did in 2006, we have no doubt that if Charlie Crist was still a Republican he would be attacking Kendrick Meek today for supporting gay adoption."
The appeals court's decision in the Gill adoption case is due at any time.