Harry Reid has filed for cloture on the National Defense Authorization Act, which contains the amendment signaling intent to repeal the DADT policy, MetroWeekly reports: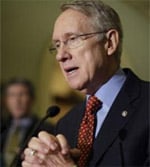 "Reid's deputy communications director, Regan Lachapelle, told Metro Weekly in an email at 1:35 p.m., 'Senator Reid did file cloture about 20 min[ute]s ago on the motion to proceed to the defense authorization bill.' She continued, 'We will vote on cloture on the motion to proceed to the bill next Tuesday at 2:15 p.m.' If 60 votes are obtained in Tuesday's vote, then debate on the NDAA will begin. This debate could include a motion to strike the DADT repeal provision or an amendment to change the specifics of the provision. Aubrey Sarvis, executive director of the Servicemembers Legal Defense Network, urged that members of the group continue to call their senators to push for repeal. In a statement prior to the cloture filing, he said, "Our opponents will filibuster and we need to help Majority Leader Harry Reid and Chairman Carl Levin [(D-Mich.)] get the 60 votes they need."
HRC sent out an action today urging people to email and call their senators. "Swing senators are making up their minds as we speak. But it's just as important that lawmakers who are already on our side hear from us so they know they have the political support to go to the mat on this issue. This is a 100-senator strategy, and we need your help to make it work."