The Harvard Crimson reports that a male undergrad was the victim of an anti-gay hate crime on campus Sunday: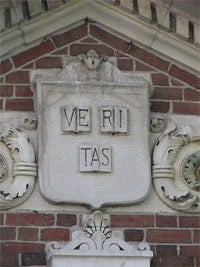 "The student was walking down Garden Street from the Quad when three unidentified men began pursuing him and whispering homophobic slurs such as 'fag' and 'queer.' After chasing him onto a side street, the suspects demanded the victim's cell phone and wallet, which they threw on the ground before fleeing the area. The student, who was not harmed during the crime, described the three suspects as white or Hispanic and in their early 20s. Since the incident did not occur on Harvard property, it is being investigated by the Cambridge Police Department."
Harvard Queer Students and Allies Co-Chairs Marco Chan '11 expressed concern over the crime, and said the group plans to address it on campus:
"This is an insulated incident as far as our campus goes, but not so isolated when we go beyond greater Boston and Massachusetts. The message it sends to new students is particularly distressing since it's so early in the year…This is a space we all collectively have ownership over. This whole environment is shared, built, and created by all of us, and no person, no student, no identity of any background should feel any level of insecurity."
Writes our tipster: "I don't know the victim that well, but I know he's an out gay sophomore (19yo). Contrary to what the police/administration are saying, I know he was injured or at least roughed up around the face because I've seen him since. Harvard's queers are in complete denial and they'll sweep this under the rug soon enough – nothing allowed to puncture the gay yuppie ideal. As far as I'm concerned, the so called liberal heartland of Harvard doesn't exist."