Opening arguments began yesterday in Major Margaret Witt's challenge of her military discharge under "Don't Ask, Don't Tell".
Witt sat in the courtroom Monday amid her supporters, including Lt. Col. Victor Fehrenbach, a fighter pilot from Idaho who is fighting his own discharge by the U.S. Air Force.

Peter Phipps, a Justice Department lawyer representing the Air Force, insisted during his opening statement that Witt's conduct necessitated her firing. That included a long-term relationship with a civilian woman, an affair with a married woman and two earlier relationships with fellow servicewomen, Witt acknowledged in a May deposition. A 2004 e-mail from the married woman's husband to the Air Force chief of staff, Gen. John Jumper, prompted the investigation into Witt's sexuality. Witt remains in a relationship with that woman, whose husband divorced her.

"By committing adultery, she compromised her integrity and her ability to lead," Phipps said. "Plaintiff set an example of a disregard for Air Force policies."

Witt's discharge therefore eliminated a risk to unit cohesion and morale, he added. He said the support she has received from colleagues is irrelevant; the law's constitutionality doesn't depend on the views of her friends.
Lt. Col. Vincent Oda testified that Witt's firing, which came at a time that there was a shortage of flight nurses, harmed the military: "We were at war at the time. It was the loss of an able flight nurse is what that was."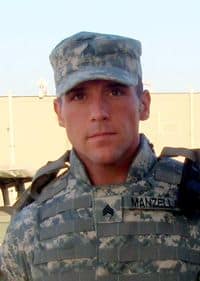 Other impacted military personnel testified as well:
The court also heard from other service members discharged under "don't ask, don't tell." One, former Army Sgt. Darren Manzella, said that when his superiors first investigated him, he gave them pictures of himself and his boyfriend kissing to make it clear he didn't want to hide anything. The result of that initial inquiry? "No evidence" of homosexuality, Manzella said. He served almost two more years before the Army kicked him out in 2008.
Retired Master Sgt. James Schaffer, who led Witt's unit, testified that "gay and lesbian members of his Air Force Reserve unit bore no stigma."
So in 2004, he was stunned to learn of an Air Force decision to suspend one member of his unit, Maj. Margaret Witt, for homosexual conduct that violated the military's "don't ask, don't tell" policy.

"I felt it was a dishonorable act on the part of the Air Force," Schaffer testified Monday as the leadoff witness in a U.S. District Court trial to determine whether Witt, who was eventually forced into retirement, should be reinstated with the 446th Aeromedical Evacuation Squadron.