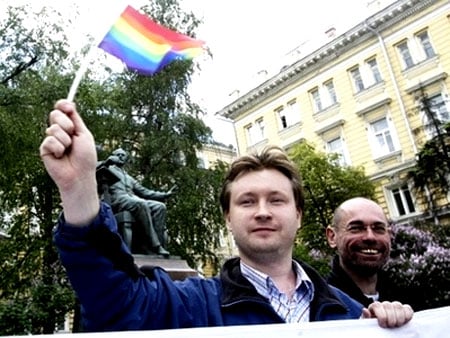 An update from UK Gay News on leading gay Russian activist Nikolai Alekseev, who was arrested at the Moscow airport yesterday by the secret police as he was boarding a flight to Geneva:
Russian authorities have detained the organiser of Moscow Gay Pride, Nikolai Alekseev, and are requiring him to abandon a picket, demanding the resignation of Moscow Mayor Yuri Luzhkov.

The authorities are also demanding that he withdraws lawsuits lodged with the European Court of Human Rights over the banning of Moscow Gay Prides over the past five years.

"They demanded of me to give up on the picket Luzhkov and withdraw a complaint by the gay pride of European court" Mr. Alekseev said today at 6:00 am.

Later, at 8 am, he clarified that he is no longer held in Domodedovo Airport, where he was detained at the airport yesterday evening.

"I cannot say where [I am], but not in Moscow," he said when asked about his whereabouts.
The Russian News agency Interfax reports Alekseev is in Belarus:
"The organizer of Moscow gay pride parades, Nikolay Alexeyev, has said that he was expelled from Russia and that he is currently in Minsk. 'At the moment I am in Minsk. I was squeezed out to here,' Alexeyev told Interfax via SMS on Thursday. 'I was taken [from Moscow's Domodedovo Airport] outside the city to some small town police station and was questioned there,' Alexeyev said. 'They demanded that I sign a prepared paper stating that I recall the case about gay pride parades from the European Court due to a reached arrangement,' he said. Speaking of his immediate plans, Alexeyev said: 'Over the next few days I will return to Russia and will attend an anti-Luzhkov picket on Tuesday.' 'It is a matter of principle, and I will do everything to be there,'" he said."
A Moscow court upheld the ban on Gay Pride earlier this year. At that time, Alekseev said he intended to appeal the ruling to the European Court of Human Rights.
Previously…
Leading Russian Gay Activist Arrested, Whereabouts Unknown [tr]