While it's unclear if he was let go or was fired, what we do know is that Steven Slater's no longer a JetBlue employee.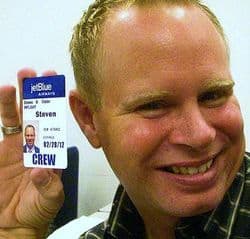 CNN reports: "JetBlue spokeswoman Jenny Dervin told CNN on Saturday that Steven Slater no longer works for the airline. She said that the separation occurred last week, but declined to elaborate how Slater and the company parted ways."
But according to ABC News, Slater's lawyer gave a different account on how things went down:
"…Slater's lawyer said that when the flight attendant left JetBlue on Wednesday, it was not the airline's decision. 'He was not fired,' attorney Daniel J. Horwitz told The Associated Press. The lawyer told the AP that he and Slater were still working out details with the airline, but wouldn't elaborate."
This begs the question, what's next for Slater? With his new found fame, this means he might be a season away from being a contestant on Big Brother.
An AP news report, AFTER THE JUMP.