Andrew Cuomo says "Gay Marriage is the civil rights issue of our time" (New York Daily News, Oct 15, 2010)
"As a landmark gay marriage bill hurtled toward an uncertain vote last year, New York's Democratic leaders scrambled to corral support. Gov. David A. Paterson delivered impassioned speeches, Senator Kirsten E. Gillibrand headlined a giant rally and City Council Speaker Christine C. Quinn shuttled back and forth to Albany to lobby lawmakers.
But the state's most popular Democrat, Attorney General Andrew M. Cuomo, was all but invisible.
He was asked by those pushing for the measure to call three wavering senators. He never spoke with two of them, their aides said, and did not reach another until after the senator had voted — against the bill.
In the end, none of the three senators supported the bill." (The New York Times July 8, 2010)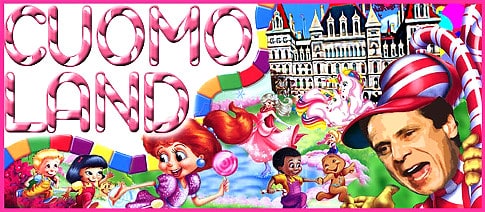 Carl Paladino has released the first in what he says will be a series of vibrantly-named attack ads aimed at Andrew Cuomo. The first so-called "Cuomo Land" ad lambastes the gubernatorial candidate for being hypocritical in his stance on marriage equality in New York state.
The New York Daily News points out how the ad might be a bad idea for Paladino:
Paladino, who staunchly opposes gay nuptials, accused Cuomo of being a hypocrite for touting his support for same-sex weddings now – but being "all but invisible" when the issue was before the Legislature last year. "He was asked by those pushing for the measure to call three wavering senators," the Paladino campaign said in the first of what it promises will be daily "Cuomo Land" attacks.

Political pros were puzzled that Paladino would attack Cuomo on gays, given that the Tea Party darling's campaign unraveled this week after he delivered an anti-gay diatribe. Veteran Democratic operative Hank Sheinkopf called it a "bad choice of a first issue" for the "Cuomo Land" attacks. "All it will do is reinforce the fact that he looked like a bigot last week," Sheinkopf said.
Paladino lifts some of his attack information from this New York Times article, published earlier this summer, that focused on Cuomo's support of the gay community.
Meanwhile, taking a different approach than Laura Bush did during her husband's run in the White House, Mrs. Paladino has publicly stated her opinion on marriage equality. She told the New York Times: "I have gay friends, and they're some of the most generous, loving people you ever want to meet. If they want to live together and be together and share a life, that's their business."
She also commented on his controversial remarks last weekend: "I don't know how it came out. Probably badly — it usually does." When someone says, "There is nothing to be proud of in being a dysfunctional homosexual," I'd say "badly" is an understatement.
Mrs. Paladino also revealed that her openly gay nephew is upset by her husband's critical views on the LGBT community. Sounds like that's why he went AWOL earlier this week.
Read the full e-mail, via Talking Points Memo, AFTER THE JUMP.