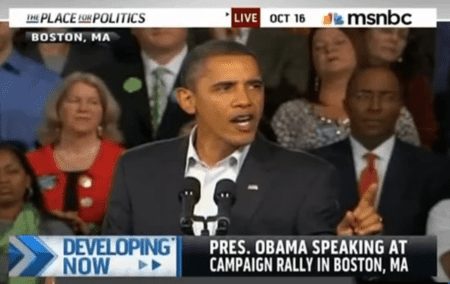 During a rally in Boston yesterday, a group of gay rights activists and AIDS research supporters interrupted a speech from President Obama while he was stumping for Massachusetts Governor Deval Patrick. Reportedly chants included "Mr. President, stop the bigotry! Support marriage equality!," "Do you also oppose Atheist Marriage?," and "Would
you want a Civil Union?"
Mediaite reports on the incident, which seemed to noticeably agitate the president:
"The President appeared uncharacteristically upset as, mid-sentence, a group of folks in the crowd began to loudly object to his speech as he described the work his administration had done for AIDS research. As the crowd turned their heads up to look at the hecklers, President Obama followed as well, and modified his speech for them, menacingly pointing his finger up at them as he warned that a Republican leadership would be extremely destructive to their cause. After raising his voice mid-sentence in response to them, President Obama continued: "One of the great things about being a Democrat is, we like arguing with each other. But to the folks concerned about AIDS funding, I would say 'take a look at what the Republican leadership has to say about AIDS funding.'"
Watch a clip of the incident from MSNBC as well as a POV clip from the crowd, AFTER THE JUMP.