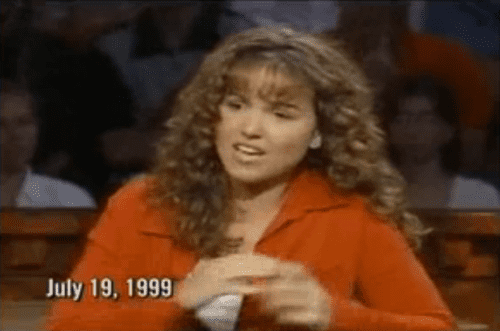 Last night, Bill Maher released yet another clip of Christine O'Donnell from her regular guest stints on Politically Incorrect. This one again references her witchcrafting days but, in it, she also makes this admission: "I was dabbling into every other kind of religion before I became a Christian."
So what's more important to her than her core spiritual beliefs? Meatballs. Said O'Donnell: "I would have become a Hare Krishna, but I didn't want to become a vegetarian. And that is honestly the reason why, because I'm Italian and I love meatballs."
Also, the New York Times today published a piece on O'Donnell and it appears as if she's looking to end her days in singledom.
Supporters of Ms. O'Donnell, who is single and describes herself as "currently taking applications for a husband," say her ability to discuss her "faith journey" is central to what could make her a compelling new voice for social conservatism. "She has a real gift for personal presentation," said Colin Hanna, the president of Let Freedom Ring, a conservative public policy nonprofit. It is grounded, he said, "in the ease in which she gives her personal testimony."
O'Donnell's sister also spoke about her support for her sister:
Ms. O'Donnell was joined Thursday by her oldest sister, Jennie, a lesbian who seems unbothered by Christine's past statements about homosexuals (they have an "identity disorder," she said in 2006) and has moved temporarily from Los Angeles to help on the campaign. "Blood is thicker than politics," explained Jennie, a self-described expert in the "healing arts."
I hope that Jennie understands that that "blood" also believes her own sister is "attacking the very center of what is America" simply by being gay.
The Politically Incorrect clip is AFTER THE JUMP.