Defense Secretary Robert Gates spoke out today on Judge Virginia Phillips' ruling barring enforcement of the military's ban on gays in the military: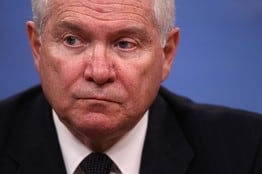 "Gates said Wednesday that abruptly ending the military's 'don't ask, don't tell' policy as a federal judge has ordered would have enormous consequences. A day after a judge in California ordered the Pentagon to cease enforcement of its policy barring gays from openly serving in the military, Gates told reporters that the question of whether to repeal the law should be decided by Congress, and done only after the Pentagon completes its study on the issue. 'I feel strongly this is an action that needs to be taken by the Congress and that it is an action that requires careful preparation, and a lot of training,' said Gates. 'It has enormous consequences for our troops.' The defense secretary said that besides the changes in training, regulations will need revisions and changes may be necessary to benefits and Defense Department buildings."
The BBC adds: "At the White House on Wednesday, spokesman Robert Gibbs described 'don't ask, don't tell' as 'a policy that is going to end'. But he declined to answer whether the Obama administration preferred to seek a stay of the injunction and appeal against the ruling."
The Department of Justice has until December 16 to appeal the ruling.