Through a series of interviews, including one with Kemp himself, the FBI picked apart the "Kemp is gay" rumors, and eventually concluded that they amounted to nothing but gossip. From the FBI file obtained by Salon and concerning agents' interaction with Kemp:

While the matter may have officially been settled, the chatter continued to follow the late Congressman, including during his tenure as Bob Dole's running mate in the 1996 presidential election.
It also makes you wonder how many other politicians have been put under the Spooks' gay microscope.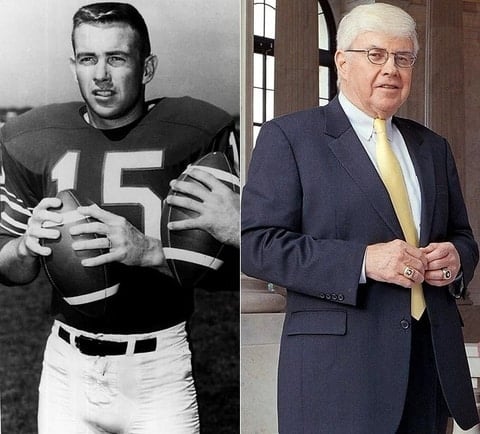 Conservative icon Jack Kemp's career was consistently overshadowed by rumors that he was gay. Those lavender rumbles ran so rampant, in fact, that the FBI did its own investigation in 1989, when President George H.W. Bush nominated Congressman Kemp for his cabinet.
Kemp, a professional football player who dabbled in politics, got his legislative start in California, where he worked for Barry Goldwater's 1964 presidential campaign and then Ronald Reagan's 1966 gubernatorial campaign. It was during his time with Reagan that Kemp and another man bought a lake house together.
That lake house, Salon's Justin Elliot reports, would help spark the "Kemp's gay" gossip.
The columnists Jack Anderson and Drew Pearson broke the news in 1967 that what they called "a homosexual ring" had been "operating" in Ronald Reagan's California gubernatorial administration.  And while Reagan publicly denied it, he had in fact fired his chief of staff and another aide after an internal investigation concluded that they were gay.

…

Kemp, then in his early 30s and the quarterback for the Buffalo Bills, was at the time working on Reagan's Sacramento staff during the off-season. He had purchased a cabin in Lake Tahoe in partnership with Reagan's chief of staff; that's where some of the "homosexual parties" reportedly happened. Kemp later maintained that the cabin was merely a real estate investment and he never visited it. But the columnists had referred to an unnamed "athlete" who was a member of the "ring," a clear reference to Kemp. The rumor that would follow Kemp for the rest of his life had been born.
Despite the rumors, Kemp, who died in 2009, continued climbing up the political ladder, and was elected from New York to the U.S. House of Representatives in 1971. The married Republican remained there, and consistently voted against gay rights, until 1989, when he joined the first President Bush's cabinet as Housing Secretary, but not before the FBI did its digging.