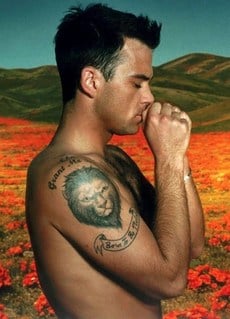 The gays have long loved musician Robbie Williams, and Williams has returned the love by being one of the most inclusive artists around. Now he's proving how highly he thinks of gay people by saying he wants a potential child to be LGBT.
When a radio host asked, hypothetically, whether he and new wife Ayda Field would want a boy or girl baby, Williams responded, "I want a gay one, we've talked about it and that's what we want, whatever it is."
Williams then continued, "I genuinely don't care [about the gender]. I always thought I want a boy ever since I was little but now I'm like, 'Oh yeah girls, they're daddy's girls aren't they?'"
Well, we'll see how much of a daddy's little girl she is if Williams makes good on his next vow: "If it's a guy I'm going teach it to play footy and all of that stuff and if it's a girl I'm going to protect her to my death."