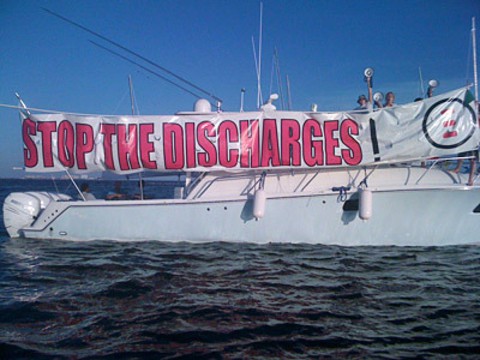 President Obama's fundraising trip to Miami was overshadowed this evening by GetEqual activists launched an air, sea and land mission to protest the dinner, put on for Rep. Ron Klein.
Hoping to press the President on Don't Ask, Don't Tell, GetEqual activists first greeted Obama's motorcade with signs reading "Stop the Discharges Now" and "We'll Give When We're GetEqual." The President rolled down the window a bit and waved to the crowd, said participants.
Once Obama arrived at the event, his ocean view, courtesy of his host, Miami Heat player Alonzo Mourning, was obscured by a weather balloon bearing the organization's website address.
GetEqual's ultimate action, however, was on the water, where they unfurled a 40-foot banner on a boat, blew air horns and demanded Obama end the discriminatory military policy.
According to the White House pool report, inside the event, where the President hammered the GOP "Pledge to America" and praised Klein, some attendees looked toward the noise, but overall the protest went down unnoticed. Via AMERICAblog:
As he is speaking, air horns can be heard across the bay, and pool is told by a GetEQUAL spokesman that they are activists protesting the administration on Don't Ask Don't Tell. Appear to have several small boats, at one point pool can hear some yelling. Some members of the audience look over but noise is not loud enough to disrupt and POTUS continues uninterrupted.
Meanwhile, Kerry Eleveld reports that Anthony Woods, a soldier discharged under DADT, and an activist named Itzel Diaz attempted to by $5,000 tickets, but the Democratic National Congressional Committee denied them access.
Robin McGhee, one of GetEqual's cofounders, insists they will continue to protest until the President makes good on his campaign promise: "If the president is going to travel around the country asking for our dollars and our votes, then we are going to travel with him and insist that he first give us some of the hope and change he promised."