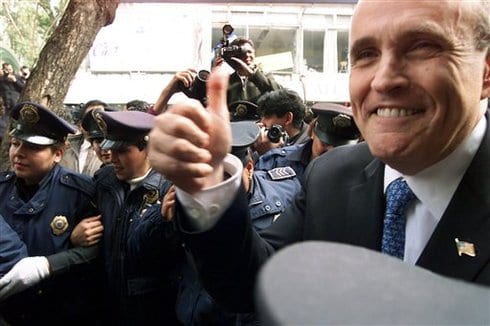 While the nation debates Carl Paladino's remarks that gay people "brainwash" children, the Republican Party as whole appears entirely disinterested, and a mere few are willing to admonish
the New York gubernatorial hopeful's homophobia
. That small minority includes Rudy Giuliani, the former mayor of New York City who failed in his 2008 presidential bid.
"At a time when the state and nation are facing massive deficits, irresponsible overspending, job-killing taxes and an ongoing war of terrorism against us, all candidates should be focused on solutions to our problems and not the personal lives of our fellow citizens," said Giuliani, who, like Paladino, opposes gay marriage. "[Paladino] should recognize his remarks were highly offensive and he should apologize for them."
Mike Cox, the chair of New York's Republican Party, kept his response comparatively brief, "We condemn any remarks that can be construed as homophobic." GOP candidates Dan Donovan, who's running for attorney general, and comptroller contender Harry Wilson, both issued statements that went a bit further.
"Any statements of this nature are offensive. We should be fostering a dialogue on tolerance. These statements do not achieve that, and I do not agree with them," said Donovan, while Wilson remarked, "I do not condone intolerance of any kind and categorically reject these hurtful statements. Furthermore, I strongly urge every candidate for statewide office to focus solely, as I have, on the problems of our state, particularly our massive and growing fiscal crisis."
Giuliani may not be the most powerful Republican in the land, but he's making a concerted effort to flex his muscle this election season, and has endorsed high profile candidates like Carly Fiorina, Meg Whitman and former Maryland Gov. Bob Ehrlich. He's keeping his name out there and, as Maggie Haberman noted, Giuliani was the first bold-faced national Republican to take on Paladino.
Perhaps the GOP's in-office leaders, like Mississippi Gov. Haley Barbour, Chairman of the Republican Governors Association, will be inspired by Giuliani, a man who has never been one of the party's favorite sons. Or, of course, they can let Giuliani steal a golden opportunity to prove their "big tent" principles.