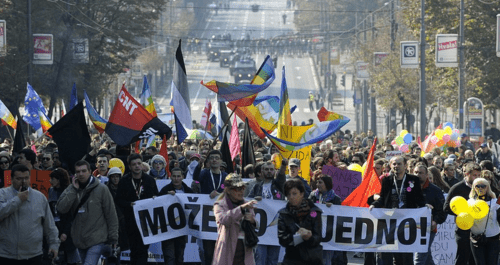 A day after a very sizable anti-gay march in Serbia's capital, a large amount of fighting and looting took place during today's pride parade in Belgrade, the first one held in that country since 2001. Hundreds of hateful right-wing protesters attacked and injured at least 100 people, including many of the 5,000 thousand police officers who were present to protect the pro-gay activists.
The AP has a rundown of the insensible violence:
Several parked cars were set on fire or damaged, shop windows were broken, garbage containers were overturned and streets signs destroyed. Several shops were looted. The rioters fired shots and hurled petrol bombs at the headquarters of the ruling pro-Western Democratic Party, setting the garage of the building on fire. The state TV building and other political parties headquarters were also attacked, with many of the house windows shattered by stones. The protesters, chanting "death to homosexuals!" hurled Molotov cocktails, bricks, stones, glass bottles and firecrackers at riot police. Police responded by firing tear gas and deploying armored vehicles to disperse the charging protesters in the heart of the capital even after the brief pride march ended.

The protesters hijacked a bus, ordered all of its passengers and the driver out, and pushed it down a steep street before it hit an electric pole on a main Belgrade square. An organizer, Lazar Pavlovic, said that staging of the pride march was a "historic event." He condemned the violence and noted that the incidents and immense security measures illustrate the dangers the gay people in Serbia are facing.
Reportedly, the violent protesters caused a total of $1.3 million in damage.
Reactions from Belgrade officials:
Serbian President Boris Tadic: "Serbia will guarantee human rights for all its citizens, regardless of the differences among them, and no attempts to revoke these freedoms with violence will be allowed."
Defense Minister Dragan Sutanovac: "It is clear now that this (violence) has nothing to do with the Pride Parade, but represents hatred unseen for quite some time."
Hillary Clinton is due to stop in Belgrade later this week during a visit to the Balkans.
Watch several videos of the pride march (Belgrade's second ever) and of the police combatting protesters, AFTER THE JUMP.