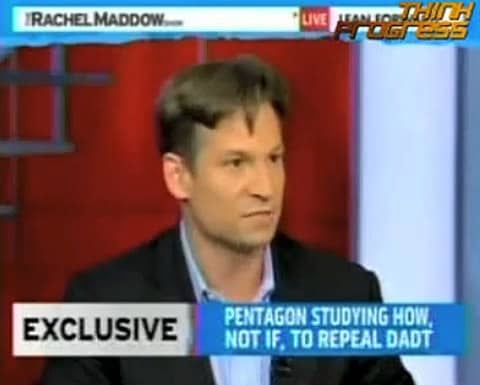 (via Igor Volsky at the wonk room)
On Rachel Maddow's show, NBC News' Richard Engel reports on early word on the Pentagon troop survey, which asked service members a variety of questions regarding serving alongside gay soldiers and 'Don't Ask, Don't Tell' repeal.
Engel reports that "these studies show a relative if not positive outlook, at least an accepting outlook."
Said Engel: "The findings are that for most soldiers, and this wasn't the sum total of all soldiers, it wasn't that big of a deal…The majority — the number one answer, first answer was 'I don't care.' That's significant."
Engel adds: "A key thing this study kept coming back to is that it's very important about the chain of command. What commanders say. How far commanders act. What tone they set. The marines were the most negative out of the services. They had the most people who were — with negative responses. And the marine corps leadership has taken a stance and has been very vocally against this issue. And the study found that most soldiers and sailors and all different service members follow a chain of command. So if the chain of command accepts this as the law, the data is that so will the soldiers."
Watch, AFTER THE JUMP…
UPDATE: Further confirmation from the WaPo.