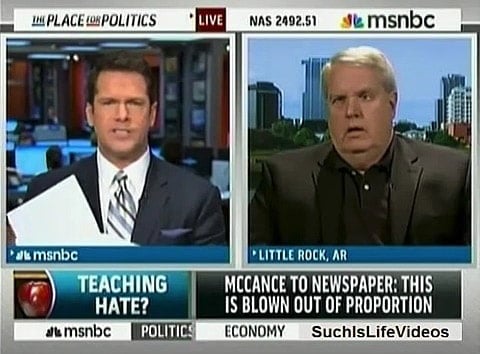 Thomas Roberts talks to Max Brantley of the Arkansas Times about Midland School Board member Clint McCance, who made headlines yesterday with a barrage of hate speech against gays on Facebook.
In a Facebook status update, McCance reacted to the school's Spirit Day in memory of kids victimized by anti-gay bullying, saying, in part:
"Seriously they want me to wear purple because five queers committed suicide. The only way im wearin it for them is if they all commit suicide. I cant believe the people of this world have gotten this stupid. We are honoring the fact that they sinned and killed therselves because of their sin. REALLY PEOPLE"
Brantley spoke to McCance, who said he's received hundreds of phone calls and is worried about his family. The school board is refusing to comment.
The Arkansas Education Department has expressed "dismay" over McCance's posting. No action has yet been taken. Brantley says a protest is being planned at the school by activist groups.
The Arkansas Dept. of Education's statement, via The Advocate:
"The Arkansas Department of Education strongly condemns remarks or attitudes of this kind and are dismayed to see that a school board official would post something of this insensitive nature on a public forum like Facebook. Because Mr. McCance is an elected official, the department has no means of dealing with him directly. However, the department does have staff who investigate matters of bullying in schools and we will monitor and quickly respond to any bullying of students that may occur because of this, as we have with other civil rights issues in the past. The department also has worked with the State's Office of the Attorney General during the month of October to provide training to counselors across the state regarding cyberbullying, 'sexting' and texting, which included a portion on how to watch for and deal with bullying of this kind."
Watch Thomas Roberts speak to Brantley, AFTER THE JUMP…