President Obama met with a group of progressive bloggers. Among them was Joe Sudbay of Americablog, who asked the President a number of questions about gay rights issues including 'DADT'.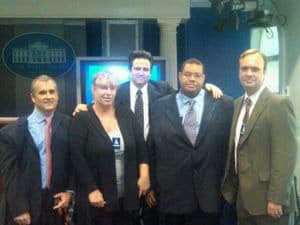 The other bloggers were Barbara Morrill (aka BarbinMD) from DailyKos, John Amato from Crooks & Liars, Oliver Willis from OliverWillis.com, and Duncan Black aka "Atrios" from eschatonblog, according to Jake Tapper of ABC News.
Obama still wouldn't say whether he believes DADT is unconstitutional. Sudbay also asked about marriage equality:
"Joe's next question was about same-sex marriage. President said he's not going to make news today on the question, but that he agreed times are changing, and he said he's thinking about the issue (again, we need to see the transcript to get the nuance here). Joe told the President about Prop 8 in California, and how our people lost rights, and we are not equal."
Check out Sudbay's initial report HERE. A more detailed transcript is promised later.