Early last month you may recall that Tim Ravndal, head of the Big Sky Tea Party Association in Montana, was removed from his position after posting Facebook remarks saying marriage should be between a man and a woman, and then expressing support for a commenter who (in apparent reference to the Matthew Shepard murder) said, "I think fruits are decorative. Hang up where they can be seen and appreciated. Call Wyoming for display instructions."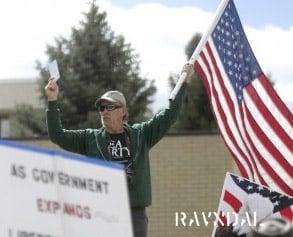 Ravndal, whose removal outraged some in his Tea Party group, has now been announced as the leader of a new Tea Party group based out of Helena, Montana:
"Lewis and Clark's Conservative Tea Party, founded last month by Bobbette Madonna, a former board member of the Big Sky group, identified Ravndal as its executive director in a statement Tuesday."
KXLH reports: "In an e-mail, Ravndal said that the Lewis & Clark's Conservative Tea Party is "organized and open for business," and that the purpose of the group is to stop the 'extremists' outright attacks on our liberty, freedom, integrity and moral values here in Montana and across America.' The group's founder, Bobbette Madonna, said she is extremely pleased that Ravndal, the former president of the Big Sky Tea Party Association, has been elected as the group's executive director."
(via d gregory smith)