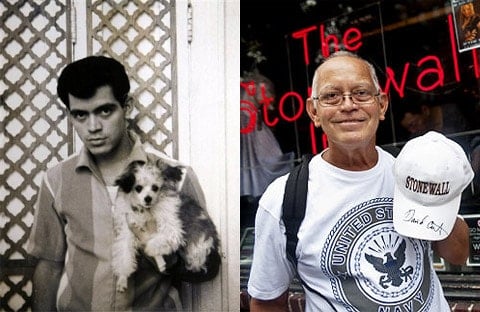 GLAAD reports, in an email, that Stonewall veteran Raymond Castro has died at 68:
"On June 27, 1969 Castro was inside the Stonewall Inn on Christopher Street, on the first night of the uprising and is documented as the only person arrested that evening who was known to be gay, according to historian David Carter.
Although police raids of gay-friendly bars were sadly common at the time, on that night people fought back. As two officers were escorting Castro out of the bar, the crowd shouted, "Let him go, let him go," and he pushed against the waiting patrol wagon with both feet, knocking the two cops to the ground. He was put in the back of the vehicle and detained, but was later released without charge. He hired a lawyer to resist the charge against him in court and also his lawyer represent an arrested lesbian who was in the patrol wagon with him.  Typical of his generosity, he did not let the lesbian assist in paying the attorney who represented them. That night's events, including Castro's struggle against police, gave birth to the modern gay civil rights movement.
Although he was at the center of the incident that sparked the movement, Ray Castro lived a quiet humble life in Florida for decades with his loving husband Frank. Originally from Puerto Rico, Castro moved to New York when he was 5, living in Manhattan and later Long Island. He spent his career as a baker and wedding cake designer and brightened the lives of everyone he knew with his magnetic personality. Ironically he attended baking school in the Greenwich Village building on 13th Street that now houses the NYC LGBT Center. He was a warm-hearted generous man who cared about his neighbors and his community."
Here's a NY Daily News article on Castro published this summer, when he returned to NYC from Madeira Beach, Florida for the 40th anniversary of gay pride and the 41st anniversary of Stonewall (photo, right, above).
The trailer for Stonewall Uprising, which Castro appeared in, AFTER THE JUMP…