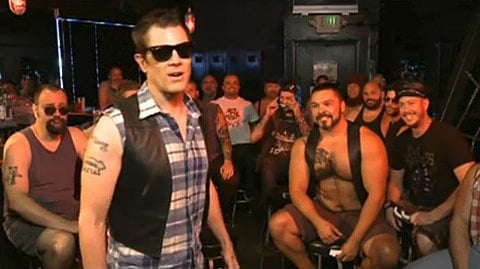 In a new promo for Jackass 3-D, Johnny Knoxville takes the film to The Eagle to screen it for some "hungry bears."
The Jackass stars also gave an interview to Vanity Fair, in which they talked about the homoerotic nature of many of their stunts:
So listen, I'm not sure how to broach this subject. There's a lot of half-naked men in Jackass… Is it possible that Jackass is at least a smidge gay?

Knoxville: I'm offended you just said a smidge!

It's more than a smidge?

Knoxville: We're over here sitting on rainbows and you say a smidge.

You're a gay pride parade waiting to happen?

Knoxville: We're a gay pride parade that's happening! And in 3-D!

It's not just homoerotic tension?

Knoxville: No, man, it's all about release with us.

Steve-O: We always thought it was funny to force a heterosexual MTV generation to deal with all of our thongs and homoerotic humor. In many ways, all our gay humor has been a humanitarian attack against homophobia. We've been trying to rid the world of homophobia for years, and I think gay people really dig it too.

This was way too easy. I had all of these questions designed to lure you into admitting your subconscious desire to f**k each other. But apparently you're not suppressing anything.

Knoxville: Suppressing?! Wait till I tell the guys you said suppressing! We're not suppressing anything! We're over here sitting on d*cks!
Watch their gay bar promo, AFTER THE JUMP…