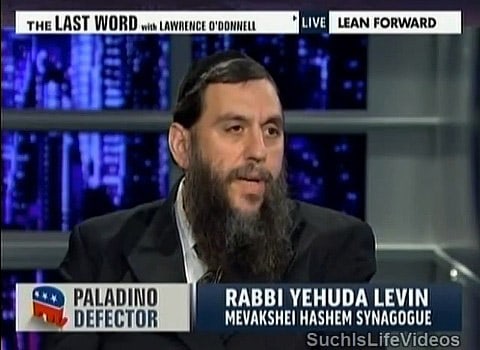 Rabbi Yehuda Levin, who helped write NY gubernatorial candidate Carl Paladino's remarks about "dysfunctional" homosexuals "brainwashing" children, broke with Paladino yesterday after hearing the Tea Party candidate's apology.
"Rabbi Levin said that he considered the apology a betrayal, and that he pined for the "old Carl" who spoke from his heart rather than bending to political whims. Rabbi Levin said he was especially upset that Mr. Paladino gave him no notice that he planned to back away from the comments. 'I was in the middle of eating a kosher pastrami sandwich,' Rabbi Levin said. 'While I was eating it, they come running and they say, 'Paladino became gay!' I said, 'What?' And then they showed me the statement. I almost choked on the kosher salami.'"
Levin appeared on The Last Word with Lawrence O'Donnell, and defended the term "brainwashing" with regard to children being taught about gay people in a contentious debate with Rabbi David-Seth Kirshner on the Jewish religion and gay people.
Watch, AFTER THE JUMP…