Ari Ezra Waldman is a 2002 graduate of Harvard College and a 2005 graduate of Harvard Law School. After practicing in New York for five years and clerking at a federal appellate court in Washington, D.C., Ari is now on the faculty at California Western School of Law in San Diego, California. His areas of expertise are criminal law, criminal procedure, LGBT law and law and economics. Ari will be writing biweekly posts on law and various LGBT issues. Follow Ari on Twitter at @ariezrawaldman.
I have the utmost respect for Walter Estes Dellinger and I think he has identified the way forward on Don't Ask, Don't Tell.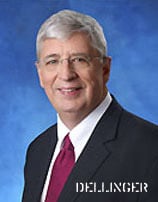 His recommendation respects the role of the executive and finds a way for President Obama, who does not like DADT and wants it gone, to both uphold the obligations of his office and make open service much more likely. Mr. Dellinger understands the importance of an appeal, the implications of not appealing and what would really be in the best interests of justice.
Like I have argued here, not appealing Judge Virginia Phillips's world-wide injunction on DADT is bad for the federal government … ANY federal government … and bad for any federal legislation. If the DOJ fell asleep at the wheel when a random district court invalidated a central provision of health care reform, progressives would be up in arms. By not appealing one district court decision, the DOJ creates a precedent not just for other district courts, but for future executives who may simply not like the progressive legislation enacted by the Obama Administration. Would you want to give a future conservative administration the right to enforce whatever laws it likes and not enforce the laws it doesn't like? I think not. Healthcare, gone; financial reform, gone; a woman's right to choose, gone.
So, if appealing the injunction is the way forward, and the appeal is all about the role of executive power, why are the same hateful arguments and stereotypes about gays popping up in DOJ motions and briefs? The DOJ is packed with brilliant lawyers and they might tell you that if you want to win, you give the court as many reasons as possible to agree with you.
Here is where President Obama, on the one hand, and Mr. Dellinger and I, on the other hand, part ways. I agree with the DOJ's decision to appeal the injunction, but I do not agree with its vociforous and morally questionable tactics and comments about gays in the military. If President Obama wants DADT gone, he should recognize that legislative repeal is less and less likely and that the only way to get it done is through the judiciary. As such, he should make one simple argument on appeal — "Your Honor, while I believe I have a duty to uphold the laws duely enacted by Congress, I believe this law is unconstitutional."
This doesn't guarantee the Ninth Circuit or the Supreme Court will agree. But, the executive is free to make this argument. In doing so, President Obama protects the prerogatives of Congress, upholds the obligations of his office and waves goodbye to a policy he loathes.