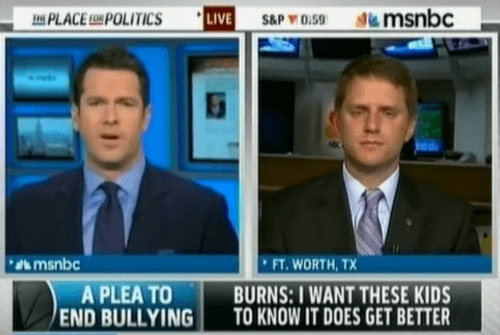 Earlier this week, viral video of Fort Worth City Councilman Joel Burns's brave and impassioned plea to bullied gay youths pretty much welled up every pair of eyes that watched it. Yesterday, Burns made the national cable channel rounds yesterday and told CNN: "I mean, I wish I could show the 13-year-old not only all the things that I said in that video but the fact that I'm on CNN today is something I never would have guessed as a 13-year-old or any other age, for that matter."
Later, on MSNBC, Burns told Thomas Roberts that he was motivated to deliver the speech, which he wrote over lunch hours before he delievered is at a city council meeting, after reading about the suicide of 19-year-old Zach Harrington, who you may recall took his own life after hearing anti-gay sentiments during a Norman, Oklahoma city council meeting.
Burns also revealed that, since the video has taken off, he has spoken to gay teens from around the globe. Also, his inbox has been flooded with 12,000 email in three days!
Related, last night, a rally was held in Dallas in support of gay teens.
Watch the interview with Roberts, AFTER THE JUMP.