Washington Post says repeal DADT: "The last possible rationale for maintaining the military's 'don't ask, don't tell' policy appears to have been pulverized.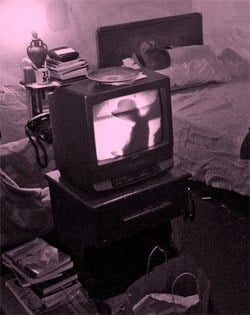 Inside Quentin Crisp's apartment, an installation (warning: link sfw, but other parts of site not).

Watch: Cat faces off against alligator, wins.

Politico to go pro, offer subscription service.

Defeated Louisiana GOP Rep. Anh "Joseph" Cao lashes out at FRC's Tony Perkins: "Cao's approach to homosexual rights also got him into trouble with Perkins and the FRC, despite his own conservative Catholic and pro-life bona fides. Cao co-sponsored both the Hate Crimes Protection Act of 2009 and legislation to repeal the "don't ask, don't tell" policy on gays and lesbians serving openly in the military, and that was enough to label him a traitor to the cause in the eyes of Tony Perkins, who had enthusiastically endorsed Cao in 2008."

Bill Clinton is set to appear in The Hangover 2.

Male hormone discovery fuels hopes for prostate cancer cure? 'If we can learn how to control and manage androgen levels, there is a strong possibility that we may be able to help thousands of men, especially those known to be at high risk from a family history of prostate cancer, from developing the condition altogether.'

Quidditch World Cup takes place in NYC.

Ricky Martin: Most folks can't help themselves.

Brad Pitt in hot pursuit of Chilean miners story: "Pitt's Plan B firm, which has helped bring movies such as Kick-Ass and Eat, Pray, Love to the big screen, has made a multimillion-dollar offer, according to the Chilean daily newspaper el Mercurio, which quoted a lawyer for the men, Edgardo Reinoso. The aim is to produce a movie which recreates the miners' desperate period beneath the earth, as well as their dramatic rescue."

Is American money behind Ugandan tabloid linking gays and terrorism?

Lady Gaga to appear in new Muppet movie.

Play explores raid on Pisces gay bathhouse in Edmonton, Alberta in 1981: "Green's play, called Undercovered, goes beyond the bathhouse, where officers roamed from room to room, recording every sex act. It follows officers into their bedrooms, where wives begin to question the sexuality of their undercover husbands. It goes into officers' heads, where they question if what they're doing is right."

Apple to make major iTunes announcement.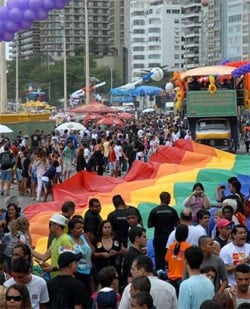 Student shot by military officers following Gay Pride in Rio.

High school administrators in Manhattan under fire for on-the-job lesbian fling: "Simmons and Jones "engaged in intimate conduct in the school during school hours," according to a report conducted by city's Special Commissioner of Investigation."

Racist mailman hater Erica Winchester placed under police protection.

Man threatened with $10,000 fine, civll suit after refusing TSA grope at airport: "First, several airports now have 'backscatter' x-ray machines that, well, basically look through your clothes and create 3-D nudie silhouettes, so the TSA agents can check out your boobs/junk. For weapons, of course. Or, if you refuse the nudie picture machines (prude!), you get an 'enhanced' pat-down. That's right! A pat-down 'enhanced' by the hassled TSA agent's hands touching all up on your secret, crotch parts."