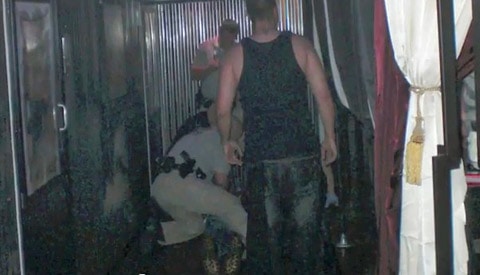 It took awhile but prosecutors have finally dropped charges against two men who were injured in the June 2009 raid of the Rainbow Lounge in Fort Worth. Prosecutors decided to pursue charges against the two this past February, eight months after the raid. Public intoxication charges against two other men were also dropped:
The dismissals came 2 ½ weeks before Chad Gibson, who suffered a head injury in the June 2009 incident, and George Armstrong had been set to go to trial on public intoxication charges. Both had pleaded not guilty, and Gibson also pleaded not guilty to assaulting a Texas Alcoholic Beverage Commission agent.

In a prepared statement released Friday, city spokesman Jason Lamers confirmed that the Class C misdemeanor charges against Gibson and Armstrong were dropped Thursday.

Public intoxication cases against Dylan Brown, 24, and Jose Macias, 32, also were dropped.

"As it is our official policy not to discuss municipal court prosecutions or litigation, the city will have no further comment," Lamers said. Adam Seidel, criminal defense attorney for Gibson and Armstrong, said he had received the news of the dismissals Thursday afternoon in a courtesy call from a court clerk. "Their words early on were that serious mistakes were made by law enforcement and the city wanted to learn from those mistakes and move forward," Seidel said. "I guess finally the actions are matching the words."
As Andy noted earlier this year, a documentary about the raid is currently being produced. Raid of the Rainbow Lounge is currently seeking more funding in order to get it completed, but the filmmakers have put together a teaser trailer. In case you missed it, you can watch it, AFTER THE JUMP.