SP: GOProud would even be willing to work with The Tea Party even though the vast majority do not support same-sex marriage? GOProud claims to oppose anti-gay federal marriage amendment. Isn't marriage equality something that, even if you don't intend to fight for today, might in the very near future? 
We don't claim to oppose a federal marriage amendment – we oppose a federal marriage amendment.  Opposing any anti-gay federal marriage amendment has been a part of our legislative agenda since day one.  For 225 years marriage and family laws have been the province of the states – not the federal government.  We believe that marriage should be decided by the states, which is why we support the repeal of DOMA.  As a federal organization that only works on federal issues, we do not work on marriage since – as I have stated – its an issue that is and should be decided at the state level.
SP: What do you think of the crop of conservative candidates for the presidential election in 2012? Would you be receptive to Sarah Palin, Bobby Jindal, or Mitt Romney as nominees for the Republican ticket?
 
I think there will be a lot of good conservative candidates running for the GOP nomination in 2012.  We look forward to talking with all of the leading candidates in the coming weeks and months.
SP: You refer to GOProud as the "only national organization representing gay conservatives." Why do you feel that the Log Cabin Republicans are not a gay conservative organization?
 
Log Cabin holds itself out as a Republican organization and indeed their Executive Director says they are a "Republican auxiliary organization."  We are not a Republican organization; indeed we have prominent independents in our leadership team.  We are a conservative organization and the only national gay organization that holds itself out as such.
SP: What do you have to say to the many gays and lesbians who believe that you and your organization are aligning yourself with a political party that does not fully support their rights? 
We aren't aligning ourselves with one party we are aligning ourselves with one ideology.  We are not a partisan organization.  We do not consider ourselves an auxiliary of the Republican Party.  We are a non-partisan conservative organization.  Indeed, we would be open to endorsing non-Republican candidates if they supported our legislative agenda.  GOProud believes strongly that it is principles – not partisanship – that matter.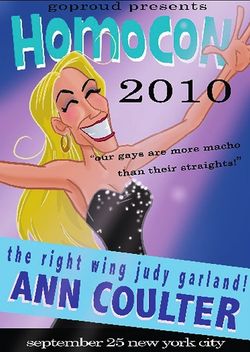 SP: Why did GOProud choose Ann Coulter to speak at Homocon this year?
 
We chose Ann because we wanted someone who would be smart, funny, provocative and yes controversial; and there is no conservative who fits that bill better than Ann Coulter.  Homocon was intended to be a great party, which it was, and an opportunity to make people think outside the box, which it definitely did.
SP: How do you think she made people think outside of the box? 
Ann's participation challenged the conventional wisdom.  It was the first time Ann had ever spoken before a gay group.  A number of anti-gay groups called on Ann to rescind her agreement to speak at Homocon and one group dropped their invitation to have her speak at their convention.  Despite the calls from anti-gay groups, Ann spoke at Homocon and helped us raise a great deal of money to allow us to fulfill our organization's mission.
SP: Did you choose to have someone controversial like Ann Coulter speak simply to help give GOProud national attention? 
No.
SP: So will Homocon be an annual event?
 
Absolutely, wait until you see what we have in store for Homocon 2011.
SP: I'm curious about your own coming out experience. Can you describe what it was like for you?
 
I came out when I was the President of my fraternity in college.  I went to college in eastern North Carolina in the 90s, not exactly a hot bed of tolerance for gay folks at the time.  There weren't many out people where I went to college at the time and my coming out experience was messy and painful for me and for lots of people around me.  When I first came out I thought I had to kill my former life – quit my fraternity, drop out of the college Republicans, give up my circle of friends, etc.  I assumed that everyone would react negatively to my being gay.  I was wrong, way wrong.  Over the years I realized that I needed to be my true self – not the closeted Chris who struggled for years with my own sexuality and not the Chris who first came out and tried to be the gay stereotype that he wasn't.  At the end of the day being gay is a part of who I am and an important part – but it doesn't define me.  I refuse to pretend to be someone I am not just to fit in. 
SP: Have you ever experienced any homophobia while living as a gay man in DC?
 
Living in DC?  Not sure.  But I haven't lived in DC all my life.  I was born in rural Maine and grew up in rural eastern North Carolina.  I lived in small cities and towns for most of my life.  Places where being out certainly wasn't the norm – hell I was the only openly gay person at my law school in NC.
 
Living in NC I did lose some friends over being gay, I lost job opportunities as a result of being out, and I have certainly seen the scorn and disapproval up close and personal.  I have also seen amazing transformations in people – I have seen people who I never dreamed would accept me, welcome me with open arms.  I have seen people who aren't gay stick their neck out for me and for other gay people.  I have seen real courage – the courage of those in our community who haven't abandoned the small towns and cities for the gay ghettos, who fight quiet fights every day just by living their lives openly and honestly. 
SP: Has there ever been a time in your adult life when you did not consider yourself a conservative? 
Yes, absolutely.  As I said earlier, when I first came out I rejected a lot of my former life.  Additionally, like many folks my beliefs have evolved over the years.  Experience has shown me first hand that conservative policies are the policies that are in the best interest of all Americans – especially LGBT Americans.