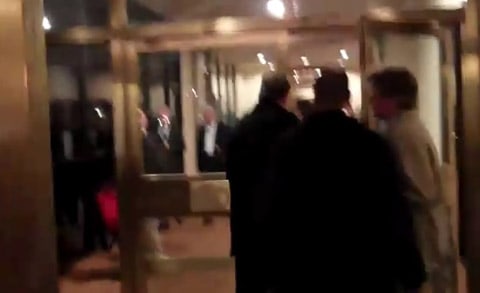 Attendees of the White House's 'Common Purpose' meeting, an ongoing outreach to progressive interest groups by the Obama administration, were met by 13 GetEQUAL protesters, including seven of those activists who were arrested at the DADT protest on the WH fence.
"David Smith, Vice President of Policy and Strategy for the Human Rights Campaign, Winnie Stachelberg, Sr. VP for External Affairs for CAP; Rea Carey, Executive Director of the National Gay and Lesbian Task Force, were greeted tonight by the protestors and asked to stand with the LGBT community and not attend the meeting. All three of them chose instead to cross the protest line and enter into the hotel. Smith refused saying, "I'm running late". Also, White House Deputy Chief of Staff Jim Messina was greeted tonight by protestors who chanted to him 'Obama, What's Your Plan?' and 'Keep Your Promise!'"
Said GetEQUAL's Heather Cronk to Politico: "The White House's Common Purpose meeting is the primary way that progressive ideas and values supported by a majority of Americans are being upended and compromised. We are calling on the progressive groups attending these meetings to shake free the yoke of White House staff who are refusing to push forward the progressive ideals that President Obama campaigned on."
GetEQUAL's Robin McGehee is reportedly meeting with White House LGBT liaison Briand Bond this morning.
Watch a video of the group heckling Messina, AFTER THE JUMP…
(image below via americablog)