The Senate Armed Services Committee is planning two days of hearings on December 2nd and 3rd regarding the Pentagon's report on repealing 'Don't Ask, Don't Tell', which is scheduled for release on Tuesday, the WaPo reports: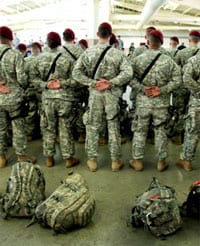 "The panel, led by Chairman Carl Levin (D-Mich.) and ranking member Sen. John McCain (R-Ariz.), will hear from Defense Secretary Robert M. Gates; Joint Chiefs of Staff Chairman Adm. Mike Mullen; and the co- chairmen of the Pentagon Working Group, Defense Department General Counsel Jeh Johnson and Army Gen. Carter Ham on Thursday. The next day, in a nod to McCain's wishes to hear from the military's top brass on the issue, the committee will hear testimony from Joint Chiefs of Staff Vice Chairman Gen. James E. Cartwright, Army Chief of Staff Gen. George W. Casey Jr., Naval Chief of Operations Adm. Gary Roughhead, Marine Commandant Gen. James F. Amos and Air Force Chief of Staff Gen. Norton A. Schwartz."
Earlier…
Chris Johnson at the Washington Blade notes the tight timeframe on DADT repeal:
Aubrey Sarvis, executive director of the Servicemembers Legal Defense Network, said he's "hopeful" that Congress will be able to enact repeal, but acknowledged that "the clock is our enemy."
"I'm fearful of time running out on the bill before it's finished or the prospects of strong opposition from a core group of senators who don't want to see anything happen in the lame duck," Sarvis said.
Debate on the defense authorization bill traditionally takes about two weeks in the Senate. Given that slightly more than one month remains in the legislative session this year, time for a debate and vote in the Senate — as well as time for conferencing the legislation — would have to be compressed to move forward.
And Americablog has posted an online 'open letter' to Obama, urging him to call Senators on 'Don't Ask, Don't Tell'.