In May I posted about the murder of beloved gay D.C. school principal Brian Betts, who met his killers over a phone chat line. Yesterday, a 19-year-old was sentenced to 40 years for the murder: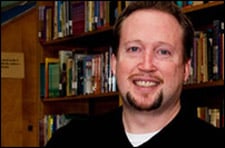 "Alante Saunders was sentenced Tuesday to 40 years in prison in Montgomery County Circuit Court. He pleaded guilty to felony murder earlier this month. Prosecutors said Saunders and Brian Betts, the principal of Shaw Middle School, met through a sex chat line and Betts agreed to leave the door of his home open for Saunders. Betts was found dead in his Silver Spring home April 15 after failing to show up for work. Three other teens have also been charged."
Gloria Allred, who served as attorney for the Betts family, says she'll request that the U.S. Justice Dept. probe Betts' murder as a hate crime.
Said Allred: "Brian's family retained me to represent them as victims in the criminal case. The family has also retained me to explore whether or not Brian's murder should also be prosecuted under the new Matthew Shepard federal hate crimes law. Brian was a gay man and we believe an investigation should be opened under that law to determine whether a hate crime has or has not been committed by defendant Saunders and if it has whether it is appropriate to proceed with a federal prosecution under that law."