The WSJ reports that "Don't Ask, Don't Tell" repeal is "all but lost for the foreseeable future".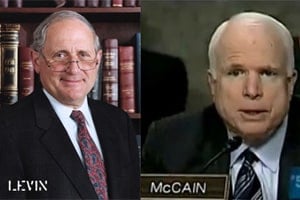 Sens. Carl Levin of Michigan and John McCain of Arizona, the top Democrat and Republican on the Senate Armed Services Committee, are in talks on stripping the proposed repeal and other controversial provisions from a broader defense bill, leaving the repeal with no legislative vehicle to carry it. With a repeal attached, and amid Republican complaints over the terms of the debate, the defense bill had failed to win the 60 votes needed to overcome a procedural hurdle in the Senate in September.
A spokeswoman for Mr. McCain, who opposes the repeal, confirmed he is in talks with Mr. Levin on how to proceed on the defense bill but didn't provide details.
The measure is not among the four priorities listed for the coming Comgressional session by WH Press Secretary Robert Gibbs. Those include "tax cuts, a nuclear-arms treaty with Russia, a child nutrition bill and confirmation of Jack Lew as White House budget director." DADT was not named because they expect heavy Republican opposition to the measure.
Tommy Sears, executive director of the Center for Military Readiness, which opposes a repeal, rated the chance of action "extremely low." Richard Socarides, an activist and former adviser on gay rights to President Bill Clinton, said it was "extremely unrealistic'' that Congress would take it up this year.
Earlier this weekend, Defense Secretary Robert Gates expressed similar concerns about Republican opposition to the DADT repeal measure: "I would like to see the repeal of "don't ask, don't tell" but I'm not sure what the prospects for that are."
SLDN Executive Director Aubrey Sarvis expressed his concerns in a statement released on Sunday:
"We welcome Secretary Gates call for the Senate to act on repeal in the lame duck session. Indeed, the Senate should call up the defense bill reported out of committee and pass it before it goes home for the year. If the President, Majority Leader Reid, Secretary Gates, and a handful of Republican senators are committed to passing the comprehensive defense bill, there is ample time to do so. Any talk about a watered down defense bill, whereby the 'Don't Ask' revisions would be stripped out, is unacceptable and offensive to the gay and lesbian service members who risk their lives every day."
So, back in February when activists and bloggers were complaining that 'Don't Ask, Don't Tell' was not going to happen and appealed to the nation's largest LGBT lobbying organization, HRC, to exert its touted influence over the White House, the group insisted that we shouldn't worry, that there was a clear path to repeal. So what now?
Drive to Repeal 'Don't Ask' Policy All but Lost for Now' [wsj]
Previously – Feb 10
Situation Normal on DADT: All F-ed Up [tr]
Barney Frank Says White House 'Muddled on DADT; HRC Insists Road to Repeal is Clear [tr]