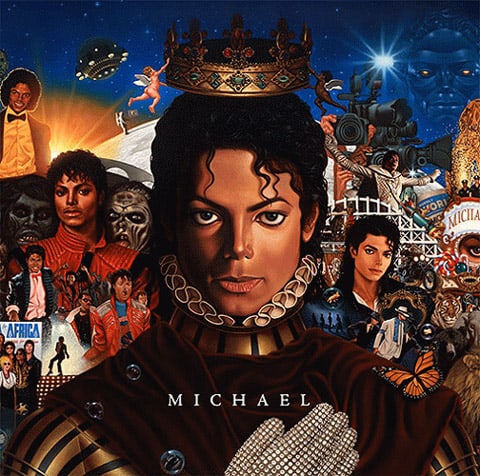 A "new" posthumous Michael Jackson album is on its way in mid-December. SONY Music's fluff on the release:
"The creative process never stopped for the King of Pop who was always planning for his next album; unbeknownst to many fans around the world Michael Jackson was writing and recording songs continuously everywhere from a friend's home in New Jersey to studios in Las Vegas and Los Angeles with a small group of handpicked collaborators. Now, through the unique stories that will be told about the songs that comprise MICHAEL, fans will get mind-blowing insight into how this artist worked and a chance to hear the songs he most recently created along with tracks that Michael had a desire to bring to fruition. 'Breaking News,' a never heard before song by Michael that appears on the new album was recorded in New Jersey in 2007 and recently brought to completion."
There has been some controversy about whether or not the vocals on the album are genuinely Michael Jackson:
His nephews, TJ and Taryll Jackson, have now complained on Twitter about the track's "fake" and "shady" vocals.
Sony said in its statement that it had "complete confidence in the results of our extensive research, as well as the accounts of those who were in the studio with Michael, that the vocals on the new album are his own".
Listen to first single "Breaking News", AFTER THE JUMP…