Vanity Fair's Brett Berk asks Glee actor Darren Criss in a roundabout way if he's gay.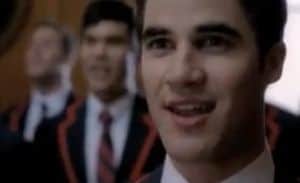 VF:
Chris [Colfer] told me one of the times we talked that some of the power in his performances is from having personally experienced many of the things his character goes through as a gay teen. Not that this is in any way necessary for an actor playing any kind of role, but I'm wondering about your own personal connection to the character of Blaine and the subject matter you're addressing.
CRISS:
It's a subject that's very near and dear to my heart, simply because I grew up in such an open community—doing theater in San Francisco. I mean, it doesn't get much, stereotypically, "gayer." I was inadvertently raised in the "gay community." I had straight parents, but I spent massive amounts of time at a very early age with gay, theater-hopeful thirty-somethings. And those were the people I spent time with early on, so my whole perception of "sexuality" just wasn't there. It just…was. It even got to the point where, later in life… I had all the components in place. I was, well, not super effeminate, but I was into girly things—I liked musical theater, all the stereotypical things. I had to come out and say, well, I'm sorry, but I think I'm straight. And people were like, say it ain't so! And I would say, "It's been a secret too long, but I'm actually a straight male."
And so for the longest time when people asked me about Blaine, I wanted to say It doesn't matter. And it doesn't. But I don't want to devalue it, because it's a very earnest question, and I can see why people would want to know. And I realized that if I said, It doesn't matter, that immediately means that I'm gay. So I do define myself as a straight male, but it really doesn't come into play with me in this role. As an actor, your objective is always to play the scene. And this case, he happens to be a gay teen.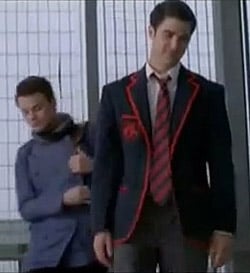 Criss also talked with Popwrap about gay teen bullying (which was addressed on last night's episode – spoiler warning) and his character:
"Blaine is a year ahead of Kurt, both literally and figuratively – so when they meet, Blaine immediately connects with him and feels the need to impart his knowledge. He has gone through the same trials and tribulations Kurt has been feeling at McKinley. He wants to help Kurt. It's a beautiful message that gives hope to Kurt, and hopefully everyone watching. Gay or straight, I think it's superfluous – teens in general struggle with discrimination and this is a great coloring on the show. [As far as the current rash of gay teen suicides] Like any tragedy, it's all about bringing attention to it and addressing the issue. It's not new. This has been happening for years and I think the gay teen component is at the forefront, but it's so much bigger than that. So yes, it's heightened the stakes, but in a weird way, it's inspiring us to be a lot stronger about what we're saying. I'm no longer just acting opposite Chris Colfer, I'm also talking to the bullied teens and the parents who've lost kids to this. There's people listening now, it's kind of empowering."
Previously…
Glee's Teenage Dream on Whether He'll Kiss Kurt [tr]
Watch: Glee's All-Guy Teenage Dream [tr]