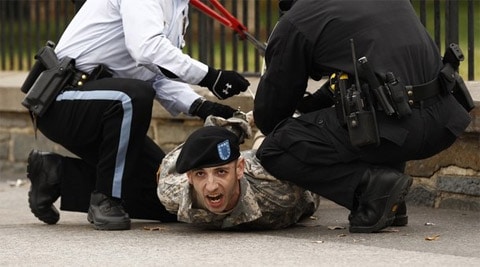 Former U.S. Army Arabic Linguist Ian Finkenbinder, who was discharged from the Army in December 2004 after announcing to his superiors that he was gay, was one of the 13 activists arrested at the White House on Monday protesting "Don't Ask, Don't Tell".
He offers a first-person tale of his first act of civil disobedience:
As soon as we got out of the car, we split up and casually strolled around the park, trying to look inconspicuous.  Of course, eight people in uniform lounging about on park benches, nervously staring at the White House while in the company of Lt. Dan Choi isn't exactly what one could call "incognito."  We watched as more and more cop cars moved into the street in front of 1600 Pennsylvania Ave, as well as two paddywagons waiting to take us away.  Would we even MAKE it to the fence?  We weren't sure.
Finally, Dan made the first move, addressing the horde of cameras that had shown up.  We were committed.  The police, to their credit, watched as we walked up to the fence, turned around, and facing the crowd, handcuffed ourselves to the fence. 
Read the rest of Ian's story HERE.