It's coming after the Thanksgiving recess, the Wonk Room reports: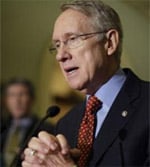 "Key Senate leadership and Administration officials this evening met with representatives of the Human Rights Campaign (HRC), Servicemembers Legal Defense Network (SLDN), and the Center for American Progress Action Fund (CAPAF). The officials told the groups that Majority Leader Harry Reid and President Obama are committed to moving forward on repeal by bringing the National Defense Authorization Act – the bill to which "Don't Ask, Don't Tell" repeal is attached – to the floor in the lame duck session after the Thanksgiving recess. Further the Majority Leader and the President made clear their opposition to removing the DADT provision from the NDAA. Information on the exact timing and procedural conditions will be announced by the Majority Leader's office."
"The question, of course, is whether the Senate will have enough time to consider the measure in an open amendment process, something that typically requires two weeks of debate. Therefore, if Reid brings the measure to the floor on Monday, November 29th, the Senate could finish debate and vote on the bill by December 13th and then begin conferencing the measure with the aim of passing it before Christmas."