Gay Pride flag burning at Albion College ignored by school officials? UPDATE: College responds.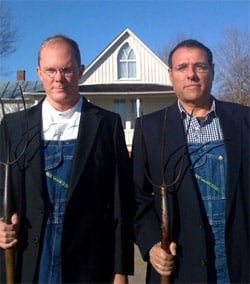 R. Tripp Evans, author of a new biography of painter Grant Wood, poses as his subject's most iconic work, with his partner Ed Cabral.

BIZARRE: Canada's answer to Jersey Shore.

House GOP already lying about "transparency."

Family Research Council extremist wingnut Peter Sprigg is not happy that kids participated in a 'FCK H8' parody video: "Is this supposed to be funny?…It's not. It's child abuse."

Tom Brady modeling for Under Armour.

Gay student's car vandalized at U-Mass Dartmouth: "The incident happened Saturday at U-Mass Dartmouth, police said. A male student parked his car on campus in the afternoon and hours later found it vandalized, emblazoned with a homophobic slur. The school chancellor sent out an e-mail notification about the incidents to students, telling them there is help available to anyone who feels bullied, threatened or harassed."

Sue Sylvester is getting married on Glee.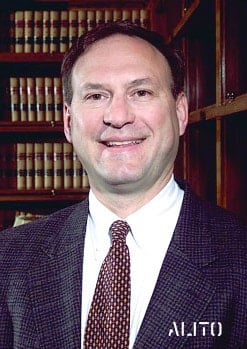 Supreme Court Justice Samuel Alito dismisses right-wing fundraising as "not important."

Bush says he would have endorsed Obama if he'd have asked.

Christopher Ciccone launches reality show in Miami Beach: "The program will be called "The Ciccone Factory." No word yet on where the show is being shopped, but look for it early next year. In the proposed series, Ciccone will give the up-and-coming performers a makeover and line them up with entertainment resources. The upscale lounge-club-bar one block off of Lincoln Road in Miami Beach will be the site for the showcase of new bands and performances every Wednesday night."

Hellcats actor Matt Barr working out shirtless.

LISTEN: New clips of Cher singing in Burlesque.

Mexican transgender woman granted asylum in U.S.: "Last week, an immigration judge granted Reyes a form of asylum that allows her to stay in the U.S. based on the persecution she suffered as a transgender woman in Mexico. The Board of Immigration Appeals withheld her removal from the U.S. after determining the Mexican government would not protect her from abuse if she was deported."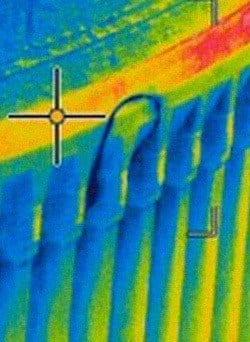 Photo: Fissure in fuel tank delays Space Shuttle Discovery launch.

Pink is pregnant.

TV star giraffe killed by lightning.

Photos: Backstage at GMHC's Fashion Forward charity event. WSJ report.

Bachelor Jake Pavelka back working as a pilot for Delta: "The flight attendant asked us not to tell anyone because he didn't want it to be known. When they announced our captain they just said, 'Your captain today is Jake'."

Tom Ford is hush hush about new film.

Lake Michigan under threat from quagga mussels.

Lesbian student at University of Wisconsin-Whitewater attacked: "Two white males approached the female at 6:45 p.m. One of the males is described as 6 feet tall, and the other is described as around 5' 6". The taller male allegedly pushed the female up against the fence on the south side of the Calvary Cemetery and made remarks to her about her presumed sexual orientation. No physical harm was done to the victim."