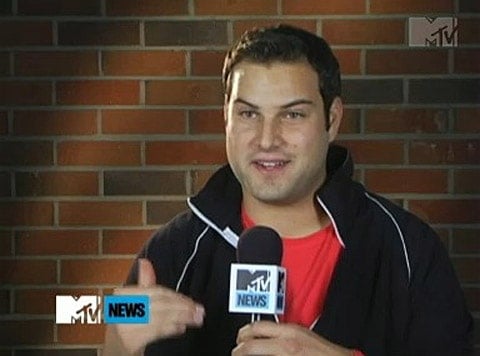 MTV News talked to Max Adler, who plays Glee bully Dave Karovsky, the football player who gave Kurt Hummel his first kiss on last week's episode.
Said Adler:
"I just got the script like any other script. I had no clue what was going on…I saw Ryan at the premiere, and he said, 'We just wrote some really good stuff for you for episode six,' and I was like, 'Oh, cool. Some more slushies?'…And then I got the script, and I was reading that scene, and Kurt, he just doesn't let up. He keeps on me and he keeps on me, and I thought, 'I'm going to punch him in the face. This is getting serious.' And then I turn the page, and it says: 'Karovsky kisses Kurt.' And I was like, 'What?' I jumped off the couch. I was as shocked as anybody else was. It was totally unexpected."
Karovsky adds that it wasn't just Kurt's first time: "So, yeah, first time I've kissed a guy, and I'm glad it was Chris Colfer!"
Watch, AFTER THE JUMP…