Look for this to be repeated in many places around the country: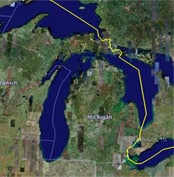 With both chambers of the state legislature and all the top offices in state government about to be filled with a Republican majority, leaders of the state's major LGBT organizations say that pro-equality legislation is likely dead in the political water.
*****
Those bills include an amendment to the state's Elliot-Larsen Civil Rights Act to include sexual orientation and gender identity and expression; legislation to legalize second parent adoption; anti-bullying legislation; and legislation to amend the state's current Ethnic Intimidation Act to expand the definition of bias motivated crimes.
The Elliot-Larsen Amendment, anti-bullying legislation and anti-bias crimes legislation have all cleared house panels in the current legislature, with anti-bullying legislation having been approved by the House and sent to the Senate.
Phil Volk, head of the Michigan Democratic Party LGBTA caucus, says anti-bullying legislation, in a watered down form, might move through the new legislature. But everything else, he says, is likely off the table.