Italian Prime Minister Silvio Berlusconi has angered gay rights groups with a statement he made in response to calls for his resignation over an alleged inappropriate relationship with a 17-year-old girl he reportedly gave cash, diamonds, and a car.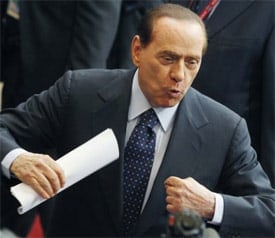 Said Berlusconi to a crowd at a motorcycle industry show in Milan: "I work extremely hard and if every now and then I look at the face of a beautiful girl then it's better to be passionate about beautiful girls than gay."
Said Paolo Patane of the Italian gay rights group Arcigay: "It's just backwards, offensive machismo that is vulgar and gratuitous not only to homosexuals but also to women. What he said shows a complete lack of respect for the dignity of people and confirms the climate of embarrassment that is surrounding the Prime Minister at the moment and which is dragging the country down. Berlusconi should apologise immediately and especially with homosexuals and women because what he said does no justice to someone who is supposed to be the head of a European government."
Reuters reports: "Berlusconi, who has tangled with the media over parties and women in the past, has been under increasing pressure since newspapers last week carried reports about the teenager who attended parties at his sumptuous villa at Arcore near Milan. The Corriere della Sera newspaper reported details of a phone call it said Berlusconi made to a Milan police chief on Ruby's behalf when she was detained over a separate theft incident in May, raising questions of whether he improperly intervened. Berlusconi says he helped Ruby, whose real name is reported by Italian newspapers to be Karima El Mahroug, but he denies exerting any improper pressure on police officers."