Log Cabin Republican executive director R. Clarke Cooper tells Talking Points Memo the group is focusing on five GOP senators as it works both legislatively and in the courts to repeal DADT: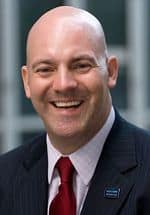 "We have to go back," Cooper said. "There are a number of senators who were not fully comfortable being vocal for repeal before adjournment."
There are a handful — four or five, he said — of Republican senators who he expects to be very persuadable. Those are the ones, he said, who asked for data from the Pentagon's review of DADT before making a decision.
"Those are the ones that are gonna be very open to the idea of actually voting in favor of repeal," he said. "These are senators who have been very amenable to the conversation, and have put forth positive indicators … but just need a little more."
The push they might need, he said, is the report the Pentagon will release in early December on its review.
"With that being done and the election being under everyone's belt, we can finally get this done," he said.
Just before the elections, Servicemembers United's Alex Nicholson recorded a video laying out the path to repeal during a lame duck session. Nicholson said the Senate would need to bring up the bill around November 18, and start conferencing the bill December 9.