After a close race, it's official: Democrat Pat Quinn will remain in office as governor of Illinois. Quinn's GOP opponent, Senator Bill Brady, conceded defeat yesterday afternoon. The governor, who took office in the beginning of 2009 after the removal of Rod Blagojevich from office, won an endorsement from the LGBT organization Equality Illinois. He has also been very pro-gay and has vocally supported bringing marriage equality to that state. Brady, on the other hand, has strong anti-gay views and has sponsored many bills that would ban both civil unions and same-sex marriage.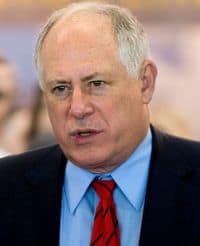 Chicago Pride reports on the election results:
Suburban Cook County and Chicago, which includes a majority of Illinois' LGBT voters, provided Quinn with more than half of his votes. Brady's conservative record in opposing gay rights, abortion rights and threatening cuts in state school spending didn't resonate well with city voters.

Gay rights advocates, who hammered Brady for his anti-gay stance, credit the strong showing for Quinn in Chicago with effective get-out-the-vote campaigns.

"We pulled out all stops for Quinn," Equality Illinois public policy director Rick Garcia told ChicagoPride.com. "Our PAC gave money and we made thousands of call to get out the vote." Equality Illinois Political Action Committee endorsed Quinn.
Personally, I like to think that this clever Glee-inspired campaign ad led to Quinn's win.