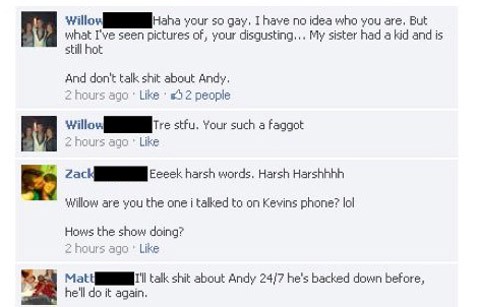 16-year-old Willow Palin unleashed on Facebook after a boy in their town criticized the family's reality show, saying "Sarah Palin's Alaska, is failing so hard right now," TMZ reports:
The comment sparked an intense response from Willow — who replied on the boy's wall, "Haha your so gay. I have no idea who you are, But what I've seen pictures of, your disgusting … My sister had a kid and is still hot."
Willow followed up that comment with another that read, "Tre stfu. Your such a f**got."
Bristol Palin also got in on the smacktalk — writing a message to Tre saying, "You're running your mouth just to talk sh*t."
Eventually, a message board war erupted — and Bristol took aim at another person named Jon — saying, "You'll be as successful as my baby daddy, And actually I do work my ass off. I've been a single mom for the last two years."
Read the lengthy thread here.