Voters to send message to Obama on Tuesday? "A majority of respondents said their vote on Tuesday would be a 'message' of their approval of Obama — 24 percent said they'll vote to support him, and 38 percent said they'll vote to oppose him. Another 37 percent said their vote wasn't a message."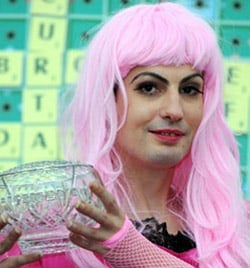 Trans woman wins UK Scrabble crown.

Study: Alcohol more harmful than heroin or crack. "Today's study offers a more complex analysis that seeks to address the 2007 criticisms. It examines nine categories of harm that drugs can do to the individual "from death to damage to mental functioning and loss of relationships" and seven types of harm to others. The maximum possible harm score was 100 and the minimum zero."

Apple censors dating app over the term "gay"?

Watch: Rihanna performs "Only Girl" on The X Factor.

Lesbian couple to apply for marriage license in challenge to UK law: "Sharon's and Franka's marriage application will take place at Greenwich Register Office at the Town Hall in Woolwich tomorrow, Tuesday 2 November, at 11.15am. Their application is the first of eight register office applications which will seek to overturn the twin bans on gay marriages and heterosexual civil partnerships."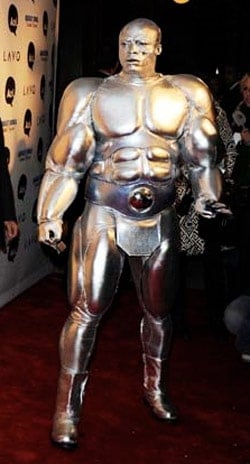 Heidi Klum and Seal will not leave the runway at Halloween.

San Diego man reports anti-gay Halloween attack: "North Park resident Jacob Harshburger was attacked outside of his home in the early hours of October 31 in an hate crime based on his sexual orientation. He is currently in stable condition at a local hospital. Harshburger, 31, opened his door at approximately 3 AM to tend to his pets and was attacked by three assailants. The individuals assaulted him while shouting anti-gay slurs, such as 'faggot'. Harshburger is an openly gay man well known in the San Diego LGBT Community."

Reese Witherspoon has a crappy job. Not.

Male model fix: Garrett Neff.

Gay and transgender University of Louisville students discuss bullying: "It's a little more frightening just in the fact that the people that did it to you in middle school and high school, you knew who they were, where they came from. But at a university with 20,000 metropolitan students, you have no idea how to even confront that when it's someone you've never even met in your life."

Taiwan's first gay and lesbian bookstore gets attention for its restroom with transparent walls.

UK Christian couple banned from becoming foster parents because they don't accept homosexuality take their case to the High Court: "Gay rights campaigners said the couple's views were out of date and that councils should protect the rights of a child before the 'prejudices' of parents."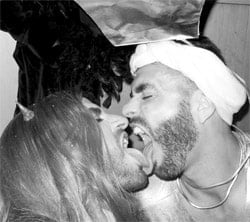 Marc Jacobs and Lorenzo Martone make contact again, for Terry Richardson at The Standard Hotel NYC's Halloween party.

American Library Association adds award for LGBT children's literature to its annual list: "The library association issued a statement Monday saying that the Stonewall Children's and Young Adult Literature Award has been added to the ALA's Youth Media Awards, watched closely by educators and librarians as they decide which books to add to their collections. The Stonewall prize honours 'English-language works for children and teens of exceptional merit relating to the gay, lesbian, bisexual and transgendered experience.' Stonewall awards for adult books were started nearly 40 years ago, but the children's category only now."