Glee Cast – Teenage Dream (DJ MichaelAngelo's Sing Mix)(DJ DigiMark Remix Video) from DJ DigiMark on Vimeo.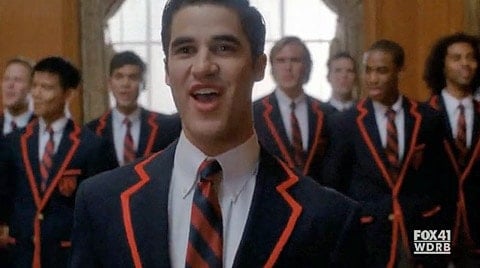 DJ MichaelAngelo (remix) and DJ DigiMark (video) sent along this unofficial dance remix and video of the all-guy "Teenage Dream" from last week's Glee.
Watch it, AFTER THE JUMP…
The track, which is set to become Glee's biggest-selling track of all time, likely sold close to 200,000 copies last week.
"The track was released on Tuesday and is on course to sell perhaps 150,000 to 175,000 downloads by week's end on November 14, according to industry prognosticators. According to Columbia Records, which releases 'Glee's' music, the track did gangbusters on its first day, racking up 55,000 in sales via iTunes — marking the highest first-day sales for any 'Glee' track. Currently, the cast of the Fox TV show saw its best sales week with its debut single, a cover of Journey's 'Don't Stop Believin'.' It bowed with 177,000 according to Nielsen SoundScan upon its release in May of 2009."
In an interview with AfterElton, Glee creator Ryan Murphy confirms that the show just signed a deal with Darren Criss and the bullying storyiline should continue through the end of the season, with ramifications on everyone.
Said Murphy of the single: "That's our biggest-selling single ever in the history of the show and the fact that it's one boy singing to another boy on a network television show and it's a No. 1 song and it sold probably 200,000 copies in one week is a very profound thing that I'm personally very proud of. I never expected that to happen. I'm catching up with the week that was and figuring out, OK, now we have this great commodity in something that people have really embraced. It just shows to me that people are hungry for that."
Watch the unofficial dance remix and remixed video, AFTER THE JUMP…