Aram Vartian, a videographer for D.C.'s MetroWeekly, was attacked after embracing a friend good-bye last week on the street: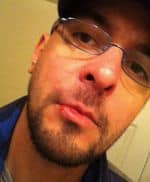 "The 34-year-old D.C. resident, who is the videographer and multimedia producer for Metro Weekly was punched from behind after saying good night to his friend, local singer-songwriter Tom Goss, while walking back to his apartment at 930 M Street NW. 'I hit the ground and I turned over, I'm on my back, and there's this guy [standing] over me, and he's screaming 'faggot.' He's got a scarf over his face, and he's 6-feet-2,' says Vartian. 'I got up to my feet, and I had my hands up to my face and there was blood, and I didn't know what this was about. I could hear him screaming, 'faggot, faggot, not in this neighborhood,' but I didn't process it at that moment.' Vartian says two people who were with the man distanced the attacker from him, saying, 'We're sorry, sir, we're sorry, please don't call the police.' Vartian reached for his phone and called the police, at which point the men disappeared from the scene."
Police reported the incident as a "simple assault" and a "hate-bias crime."